Tomes that excel in their slick forms, wealth of ideas and confident personae.
Eileen Gray: A House Under the Sun
by Charlotte Malterre-Barthes and Zosia Dzierzawska, Nobrow Press, $31
Irish architect Eileen Gray was close to being all but forgotten from history, in part because of a critical prejudice that favoured her male counterparts and also because they – Le Corbusier among them – had often been credited for her work – and tacitly accepted it as their own. A House Under the Sun traces pivotal moments of Gray's life with the honeyed pulchritude of a comic-meets-biography and the reverence of a retrospective. Aided by Zosia Dzierzawska's muted illustrative palette, there's a time-capsule pleasure in this retelling, thanks to the heartening effect of seeing Gray's passions unfurl and the quiet-but-pointed meditation on past erasures of women. It's a timely do-over: for Gray, but also for architectural history.
Cotton Rose
by Jitka Hanzlová, Steidl, $65
The title of Cotton Rose is more than a nod to the Japanese flower. It is a declaration of Jitka Hanzlová's exploration of the inextricable relationship between people and the environment, which slowly reveals itself like strokes of pentimento. With a frank lack of ostentatiousness and served in small portions (one image per every two pages, allowing each picture to breathe against its surrounding white space), this photography book documents the richly expansive contours of Gifu Prefecture over two years, as seen through Hanzlová's distinct lens. The result is an intimate exploration of identity and place, wrapped in peach-yellow.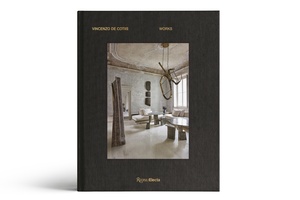 Vincenzo De Cotiis: Works
by Joseph Grima and Tom Delavan, Rizzoli Electa, $175
Vincenzo De Cotiis' furniture pieces could be mistaken for having been erected in some imagined post-apocalyptic era. "The market seeks function; I do not. I seek perception and, always, materiality," he tells author Anne Bony in this first book on his seemingly weathered yet precious work. The oceanic complexity of the Milanese artist and architect's influences, from Italian history to Brutalism, Arte Povera and the work of artist Donald Judd, are brought into focus as the book forays into the provenance of De Cotiis' creative expression, his processes and the refined combinations of materials that ensue. He shows us where design can go when it refuses to make ties with any group or movement, and what unspools from an unequivocal commitment to independence – in this case, the elegant yet obscure and just a little bit otherworldly.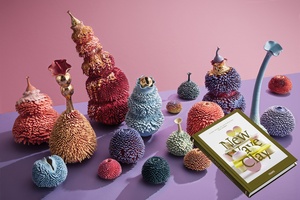 New Wave Clay: Ceramic Design, Art and Architecture
by Tom Morris, Frame Publishers, $67
Ceramics have become the ne ultra of a "pleasant garden shed hobby" turned 'it' craft. New Wave Clay is a testimony to this. Again and again, the tome shows how this medium has become something of a rule-breaker, with daring ceramicists – 55 of whom are profiled – pushing the limits of its form in gloopy, angular and even engineered ways. Their work, as dynamic and wildly quirky as it often is, shows just how far this new wave has come in cultivating a fervent belief in the potential of pottery, as both a discipline and a process. This is perhaps what makes this book so engaging; readers, in their omnipresence, are able to bear witness to an art form that has cast aside its shackles and is running, with full force, into the opportunities granted by its freedom. The interviews with Edmund de Waal, Grayson Perry and Hella Jongerius are but a bonus.
This article first appeared in Novelnyt magazine.

Subscribe here