This wonderland of bold moves and blue-chip artworks is a paean to taste on the Portuguese coast.
The first time Jacques Bec and Artur Miranda visited their house in Porto, they discovered what they consider a sign of good fortune. "Everyone dreams of finding a four-leaf clover and there were millions in the garden," remembers Miranda. "It was like Alice in Wonderland."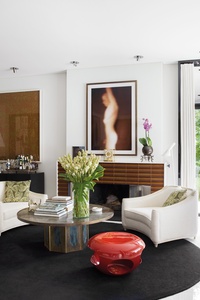 The duo, who run the locally based interior design firm Oitoemponto, had had the property on their radar for some time. Built in the late '50s, it is located just a few blocks from the ocean; they would often drive by on their way to the beach. "We were always intrigued by it," states Bec, "because it was almost hidden."
They liked the fact that it was a single-storeyed structure, even if it was not particularly in their style. "It had pink walls covered with ivy and looked almost English," says Miranda. Then, one day in early 2010, Bec was passing by in his vintage Jaguar XJS cabriolet when he spotted a 'For Sale' sign. As he recalls, "I slammed on the brakes, took a photo and sent it to Artur with the message: 'We have to buy it!'" 
The process ended up taking longer than they had anticipated. After the death of its former owner, the house had been inherited by five of his children and it took a year to negotiate the sale. The construction work would last a further four years. When they removed the vegetation from the exterior, they discovered problems with rising damp.
It transpired that the house had been constructed directly on the earth. In order to give it foundations, they had to dig down by more than a metre. Then, half the roof blew off during a storm in 2011. That did not prevent them from celebrating their marriage in the house on 11 November of the same year. The temporary décor for the event consisted of black walls and all-red furniture. "It looked a little like a cabaret or a brothel," Miranda says with amusement.
The couple met back in 1993 and, since joining forces, have completed numerous projects, including: three Berluti boutiques in New York, Paris and London; the Quinta do Pessegueiro winery in the Douro region of Portugal; and sumptuous residences in Angola, São Paulo and London, and on the Algarve.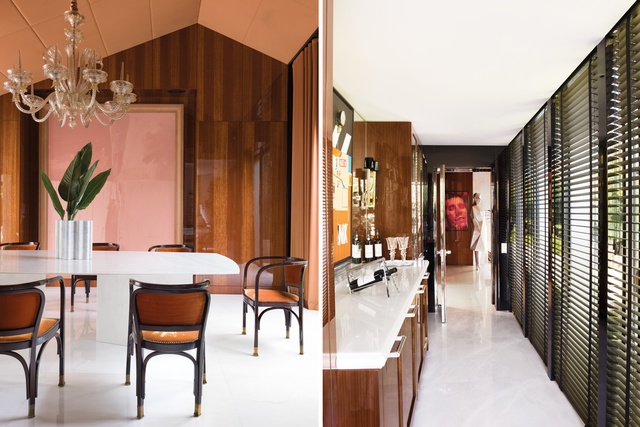 Here, they transformed the look of the house, enlarging both windows and doorways, and reducing the number of bedrooms from six to two. They also added a glazed corridor to link the kitchen to the dining room and created a car porch, inspired by the architecture of Palm Springs airport.
The house's two former garages became a sleek dining room, clad in cashmere and iroko wood, and a supremely stylish gym. (As well as the mandatory free weights and exercise ball, it includes a Joao Louro wall sculpture and a Hans Wegner Flag Halyard armchair.) As for the garden, it was reconfigured with the aid of landscape architect Brian Skillman, who added carp pools, a mirrored wall and an oversized sculpture of Bart Simpson.
Bec and Miranda readily admit that they didn't immediately see eye to eye on the style of the interior. "We had quite a few arguments," laughs Miranda. "We wanted to integrate far too many colours and materials." They ended up agreeing on a more limited palette, largely dominated by cognac and caramel tones, with a few black accents and a splash of teal in the master bedroom.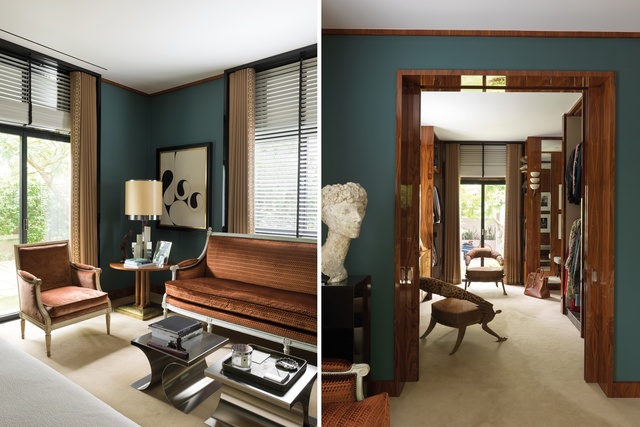 Much of the furniture and artwork had been accumulated over several decades. One of the Vanessa Beecroft photos in the hallway had been sitting in a crate for some 10 years and Miranda had first spied the Mark Brazier-Jones chairs in the dressing room back in the '80s.
The rest of the seating runs a happy gamut of styles: a sofa and armchairs created by the 18th-century cabinetmaker Georges Jacob; a set of dining chairs by Gustav Siegel, whom Miranda considers to be a precursor of the Bauhaus; and a pair of quirky chairs in the living room, designed by Brazilian modernist architect Lina Bo Bardi.
The artworks include pieces by blue-chip names like Keith Haring, Gilbert & George, and Robert Longo, as well as a photo of style maven Daphne Guinness by Mario Testino and a faceted sculpture entitled Sophie, by Xavier Veilhan, which is screwed directly into the floor. Standing guard in the living room, meanwhile, is a stuffed tiger bought at auction. "We fell in love with his expression," asserts Bec. "In the catalogue, it said that he died of old age in a zoo."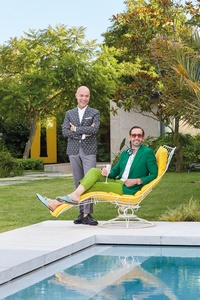 One the most impressive spaces is also one of the most intimate: the dressing room, with rack upon rack of meticulously arranged clothes. Both men are fashion fans, with Bec, in particular, displaying an exuberant sense of style. (When he came to pick us up at the airport for the shoot, he was dressed in a bright-red cape.)
"It's something our clients expect of us," he notes. "We're trendsetters for the home and need to adopt a similar attitude to fashion." Up in the attic are a further 50 linear metres of garments. "It's a little crazy," admits Miranda.
Their lives, on the contrary, have become less manic thanks to the proximity of the house to their design studio. They come home daily for lunch, often in the garden, and Miranda now spends a considerable amount of time on the lemon-coloured sofa near the pool. "It's quite ironic," quips Bec. "We created the most beautiful interior we could imagine but have ended up spending most of our time outdoors."
This article first appeared in Novelnyt magazine.

Subscribe here