Partner content: Auckland's former Reserve Bank's gold vaults are now an oasis of fitness and well-being.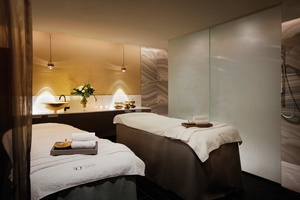 When boutique hotel SO/ Auckland opened its doors late last year, it was the playful rooftop bar and Michelin-starred chef's restaurant that bedazzled from on high. But the lure of what was to come in the former Reserve Bank's gold vaults also beckoned by way of a marble stair leading to an exclusive underground sanctuary. Today, guests to Auckland's newest luxury spa, the SO/ SPA, can enjoy a fitness facility, pool area and spa, either for one-off visits or as members of the recently launched SO/ SPA Collective.
The Spa Menu is suitably creative, as you would expect from this edgy hotel, including an experiential volcanic stone massage, iconic Tibetan beats and an Aroha goddess ritual. After a Gaia Earth mineral-rich mud wrap and a Mama's kombucha, guests float out of the spa with the gift of an earth crystal in hand. 
SO/ Auckland's two key themes – the site's former gold bullion holdings and the city's surrounding volcanoes – run throughout the interiors, with glass, marble and slate complemented by glimmers of gold. Treatment rooms are named after volcanoes and, in one, a backlit wall made from Himalayan salt casts a beautiful ember-like glow.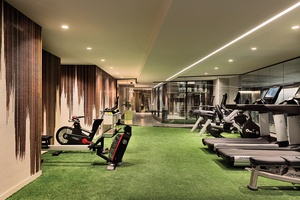 May saw the launch of the SO/ SPA Collective, with tiers of six-monthly membership. Developed as a holistic approach to well-being, the offer features six one-hour treatments, wellness events, naturopathic consultations, treatments for friends and spa product discounts. It also includes a dining experience in the Harbour Society restaurant upstairs, which has recently launched a plant-based tasting menu, and complimentary valet parking.
"We wanted to step away from gym memberships," explains manager Rawinia Buchanan, "so we've created something completely unique for the Auckland market, for both local clients and SO/'s hotel guests."
Pool and gym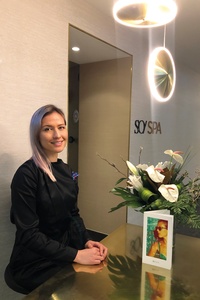 Hand-tiled in jewel-like blue mosaics, the 20-metre pool is well suited for laps. Alongside is a private jacuzzi area and Finnish sauna, where SO/'s bespoke Verité aromatic oils are switched up according to the season. The fitness centre offers the latest in training equipment for treadmill, cycle and weights enthusiasts, as well as a virtual personal trainer. For those serious about their sun salutations, yoga classes are held on the hotel's Club Signature and rooftop terraces.
Spa and wellness
SO/ Auckland's extensive menu of spa treatments has been created with the help of a wellness team based in Paris. A consultation session with a spa 'angel' on arrival helps to tailor the experience for each individual, including matching naturopathic Forage and Bloom herbal teas in the Serenity room.
Wellness leader Rawinia Buchanan manages a team of experts in thalassotherapy, detox, traditional Chinese medicine, naturopathy and rehabilitation. Specialists in Comfort Zone, Skin Regimen and Verité, members of the team also took part in a three-week meditation programme before the spa opened. "For therapists, self-care is so important," explains Buchanan, "and more so given we live and breathe all things 'wellness'."
This article first appeared in Novelnyt magazine.

Subscribe here
Novelnyt magazine works with a range of partners to source appropriate content for the site. This article has been supported by SO/ Auckland.