Inside Story: Mark Ritchie
Wellington-born Canadian architect Mark Ritchie opens the door to his bach-inspired home in Vancouver to show us the objects he loves.
It was love that brought Wellington-born architect Mark Ritchie to Canada. But it's work that's kept him there. 
The love part came in the form of wife Lisa Mingo, a Canadian he met in Singapore in 1998 (the couple has two sons, now 15 and 12). The work component is Architecture Building Culture, the firm Ritchie (51) started with an American colleague in 2011. 
From his office in Vancouver, the snow-quilted North Shore mountains filling his windows, Ritchie lends his talents to small-scale commercial, single-family and affordable housing. His seven-person firm also has a sweet tooth for luxury residences, including one they're currently working on in Fiji.
Not bad for someone who originally went into architecture because he was "halfway decent at art and mathematics" at Wellington College.
"Victoria University's School of Architecture felt like a natural direction," admits Ritchie. "Although it quickly became evident that art and mathematics are a very small part of the picture. Design is the primary skill of an architect and I realised it would take a lot of time and effort to become good at it."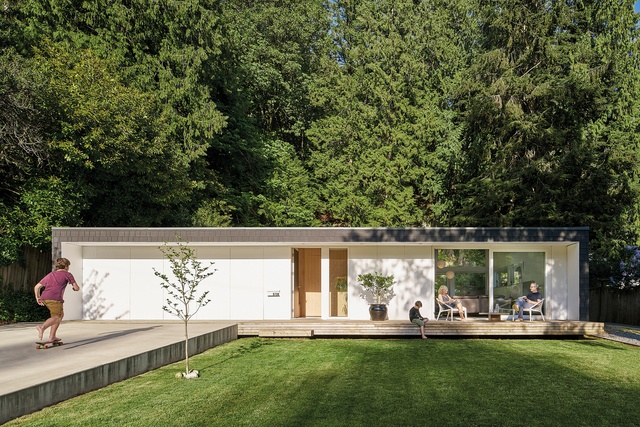 He obviously succeeded because the ink on his degree was barely dry when Ritchie landed a role with Wellington firm Craig Craig Moller (the precursor of Moller Architects) where he worked on his alma mater's downtown campus on Vivian Street. During a backpacking trip, he fell in love with Asia and eventually circled back to Singapore where he spent six years at Kerry Hill Architects, designing everything from Singapore's National Library Building to resorts in Kuala Lumpur, and even a house for the Malaysian Prime Minister's son.
But the end-game was always to chart his own direction and, in 2003, Mark Ritchie Architecture was launched in Wellington. As well as working on residential and commercial projects across New Zealand, Ritchie was senior lecturer at Victoria University. 
But, after six years, he made a sharp left turn. "I was ready for a change and Lisa was happy to return to Canada, as long as it wasn't to Winnipeg, where she's from. We chose Vancouver because of friends and the climate, and because it's closest to New Zealand."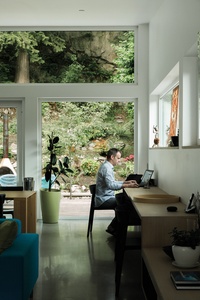 Ritchie's arrival coincided with the GFC, which, under usual circumstances, wouldn't be a positive. But the planets aligned when his friend Brian Cavanaugh, an American architect with whom he'd previously worked in New Zealand, was made redundant from a large Seattle practice.
"Our firm was born out of the recession. I run the office in Canada, while Brian works out of Portland, Oregon, but geography hasn't stopped us from working together on every project. We see it as a kind of new-age practice model and an opportunity to develop a different approach to architecture."
In between working as a design critic and guest lecturer at Toronto's Ryerson University, Ritchie also designed his own four-bedroomed home, which he describes as "a bit like a Kiwi bach".
And, although there are no immediate plans to return to New Zealand, Ritchie says you can't take the Kiwi out of the boy.
"New Zealand has a new-world culture of experimentation, of looking for new ways to solve traditional problems, which has served me well in the North American market. Kiwi architects are also very mindful of the relationship between interiors and our external environment; this works its way into all our projects."
This article first appeared in Novelnyt magazine.

Subscribe here