Inside story: Ralph van Dijk
Ad man, design aficionado and father of three Ralph van Dijk shows us the objects he loves.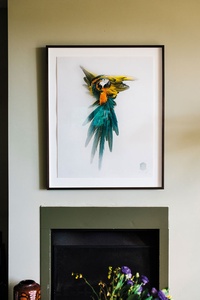 Working in advertising, Ralph van Dijk knows how to create twists on everyday ideas. And the same can also be said of Ralph's collection of furniture, objects and artworks, which includes mid-century and contemporary classics as well as images and pieces with intriguing spins or stories.
Ralph and his wife, Kate, and their three teenaged children, Sylvie, Coco and the fast-rising music star Ruel, live in Balgowlah Heights in Sydney. Born to Dutch parents, Ralph grew up in Christchurch. He lived in London for 18 years – where he met Kate – and moved to Sydney in 2006, opening a new office of Eardrum, his advertising agency specialising in audio and radio.
The family lives in an A-frame house designed by Sydney architect Graeme Over in the late 1950s; it looks across the water to Manly, backs onto national park and is a short walk to a secluded harbour beach. But the house itself rivals the location; Graeme was inspired by Hawaiian and Tahitian architecture and believed the A-frame was well suited to the Sydney climate and location.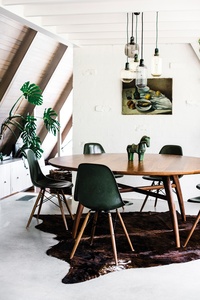 It has a north-east aspect, wraparound deck, internal gardens, one of the first infinity pools in Australia and a different view from almost every window. "I had bought the house emotionally within about 10 seconds," says Ralph. "Graeme didn't want to build something that was cookie-cutter and predictable. Everything has been thought through to encourage you to be curious and to make the eye work."
This sums up Ralph's eclectic collection too. He loves ideas and stories that spark conversation and each of his pieces has a strong concept behind it. In some cases, it's as it was designed; in other cases, it's how Ralph has transformed it.
He had a pair of kitsch 1970s' tapestries tagged and defaced with needlework graffiti, and a moko painted on a replica of Vermeer's Girl with a Pearl Earring. "I like these twists that are curious and playful: making something mundane more interesting. That is what I do for a living," Ralph explains.
The painting, like many other pieces, also captures the way that Ralph's heritage has influenced his collection, as it includes many objects and artworks from New Zealand and the Netherlands.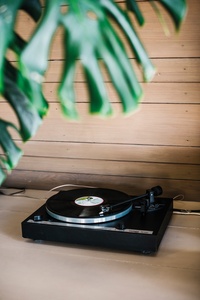 Ralph always has his eye out for furniture and objects, either for inspiration or with something in mind: hard-to-find, dark-green Eames chairs sit around the dining table ("that colour was produced only once in the 1970s"); a papier mâché ornate frame is paired with a Gauguin print found in a dusty corner of a second-hand shop in Motueka ("it's genetic – my Mum was great at spotting hidden gems and, last week, Sylvie came home with a stunning dusty oil painting from a Bowral junk shop"); and three Moooi pendants have been rescued from a soon-to-be-demolished office ("I convinced the foreman to let me take them off his hands").
Amongst Ralph's unique and distinctive pieces are items that are highly functional and long-lasting, and that remind him, Kate and their children to slow down. The ceremony of making a coffee, listening to a live-concert album or lighting a fire and watching the flames are rituals that encourage them to take their time and smell the roses. Indeed, it is much like the house and location: "It makes us feel like we're on holiday," says Ralph.