Light in three dimensions
Novelnyt caught up with Marlborough-born industrial designer Alex Buckman to talk about his budding lighting design brand.
Novelnyt: Tell us about your background.
Alex Buckman (AB): I studied industrial design at Victoria University and specialised in 3D printing. After that, I was a 3D designer at Weta, mainly designing props for movies. Ghost in the Shell was one of the movies I worked on. It was a really fast-paced design environment where I was designing props day by day – as opposed to, say, Fisher & Paykel, where I worked next. There, you might be developing a product for two or three years. So, I had both ends of the spectrum. At Fisher & Paykel, I was an industrial designer in charge of designing and developing products like the Integrated Columns Refrigeration system.
Novelnyt: Tell us about the products you have been developing for yourself and how you envision your brand developing.
AB: It is all lighting at this stage and a lot of my work is based on how light itself reacts when it touches different surfaces. What I like to do is use form, texture and materiality to see what happens when light touches those qualities and those elements. For instance, I have a new light called the Dawn Pendant; its basic form will stay the same – the disc – and the machine texture will change over time. The idea is that clients will have something that is a little more bespoke than just your standard light shade. 
Novelnyt: What would the variations be? 
AB: They can be anything. Currently, the ones that I have up there are anodised so I could specify any anodised colour. We could go electroplated in brass; that is one that I am playing with at the moment. The actual, physical three-dimensional machining that is on that surface can be changed as well. My niche is trying to be as customisable as possible for the client and give them something that will work within their space.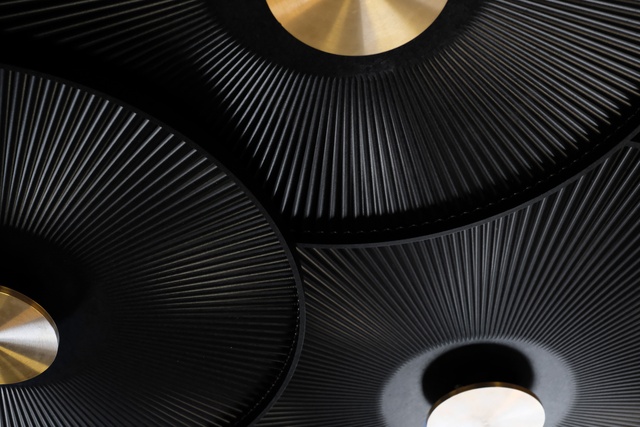 Novelnyt: And you use 3D printing for that whole process?
AB: Yes, in a number of my products, I do use 3D printing because, again, you can change the size, you can change the form very easily, without having any overheads, having to store different shapes.
Novelnyt: For a while, people were clamouring that 3D printing was going to spark the fourth industrial revolution, but it hasn't been the big bang that many expected.
AB: I didn't like that perception that it was going to be this kind of crazy, cool new thing and that everything was going to be 3D printed; you would have your phone that was 3D printed and you were going to have your car that was 3D printed. I believe it is just another tool and it is a tool that allows you to create forms and patterns that you can't do in the traditional manufacturing sense. 
Novelnyt: Is there anything new in 3D printing that is making your life easier?
AB: The main thing is that it is becoming slightly cheaper. The printer that prints my parts, maybe five years ago when I started, would have cost roughly half a million dollars. Now you can get one on your desktop for, say, $10,000. It is becoming more accessible and I think, through that, we will see a lot more interesting things out of 3D printing. It is not just for universities or massive companies anymore but also for hobbyists, and people like me coming in and just being able to stretch it and see what else can be done. 
Novelnyt: Ideally, where would your brand be in about five or 10 years' time? 
AB: I hope I can just bring beautiful lights into people's homes. I want to create emotive objects, whether they are on and illuminated and people are looking at them and going "that looks really interesting", or they are off and they still look really interesting. I want to work with the client myself and have that relationship. So as long as I can sustain that, that is where I would love to stay.
This article first appeared in Novelnyt magazine.

Subscribe here