Partner content: Studio Italia welcomes two sleek new additions to its Grafton showroom.
Studio Italia is no stranger to makeovers. In fact, the elegant furniture purveyor openly encourages them. "It's always important for us to be changing the showroom and… bringing the latest and greatest from Italy," says sales and design manager Joanna Hoeft. "Sometimes it's not a reflection of what clients are asking for or doing in the moment. We have to push the boundaries before they can see the opportunity to use new products."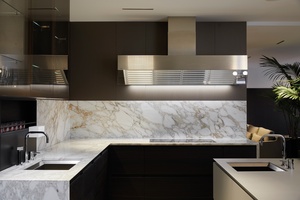 In keeping with this philosophy, Studio Italia has welcomed two sleek new additions to its Grafton showroom: the Phoenix kitchen and the Trail-meets-Artex kitchen.
The former boasts an informal bar stool area, an equipped backsplash (complete with ample wine glass and condiment storage space) and a stainless-steel island fitted with Miele cooking appliances. Slim shelving, almost unnoticeable at first glance, is intricately built into a black-elm wall. The latter features Calacatta and Grey Stone marble, laminate wall panels, Spessart oak timber, bronzed glass and exquisite cabinetry detailing. 
What connects the two Poliform kitchens beyond their oversized rangehoods and effortlessly sleek aesthetics is a shared boldness and, perhaps more subtly, a confidence of materiality, combining a mixture of finishes to a surprisingly stunning effect. "That's the direction we take from Italy," Hoeft explains.
"You can actually put a lot of things together, like soft greys with warm timbers, and it works." Less, it seems, isn't necessarily more. 
studioitalia.co.nz
This article first appeared in Novelnyt magazine.

Subscribe here
Novelnyt magazine works with a range of partners to source appropriate content for the site. This article has been supported by Studio Italia.