Partner content: Lexus collaborated with internationally acclaimed New Zealand design house Resident to celebrate the first-ever UX, a luxury compact crossover, engineered for the city.
A renowned New Zealand design studio has added utility and flair to this luxury vehicle.
Lexus New Zealand, along with Resident's creative director and co-founder, Simon James, have worked together to create a new category of luxury automotive accessories.
The 'UX x Resident' collaboration resulted in a premium, customised boot accessory designed to complement the urban lifestyle of the UX driver. Utilising Resident's approach of bold materiality and highly considered-yet-refined form, the first-of-its-kind collaboration is conceived to reflect contemporary urban utility.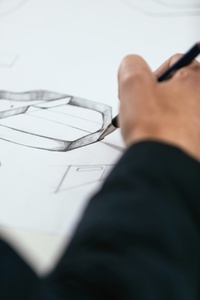 "The Lexus UX was designed and engineered for city living," says Paul Carroll, senior general manager of Lexus New Zealand. "It reflects a young, motivated segment that has ambitious designs in both life and business, and wants a stylish city vehicle that reflects their burgeoning success." 
Simon James: "The Lexus aesthetic is highly considered and one of thoughtful, refined design. As a compact crossover, the UX is specifically designed for an on-the-move lifestyle. You're more likely to see it parked outside a start-up loft space than packed with kids and suitcases. We stepped back and asked ourselves how we could add a sense of utility to their urban lives."
The design comprises a highly appointed approach to in-vehicle furniture design. The UX runs on run-flat tyres, eliminating the need for a spare, so the subfloor space was converted to a multi-purpose hold – capable of storing essentials from training gear to an after-hours change of clothes, under a stylish, contoured, cushion-like cover. The face of the design is a four-compartment, upholstered cabinet, featuring a premium, quiet-close, four-drawer system with accented leather pulls for easy-access everyday stowage.
This article first appeared in Novelnyt magazine.

Subscribe here
Novelnyt magazine works with a range of partners to source appropriate content for the site. This article has been supported by Lexus New Zealand.