Novelnyt Drive: August edition
Andrew Kerr trials new cars with unique personas and surprising abilities.
Refined road warrior: Range Rover Evoque p250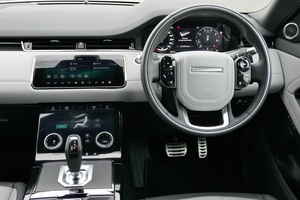 The Evoque remains as fashionable today as it was when it became the style-led, compact benchmark back in 2011. The big news for this all-new version of the baby Range Rover is how successfully the designers have enhanced a uniquely appealing shape, adding extra road presence but no extra bulk.
Gently modernised in its every detail, the Evoque retains the original's instantly recognisable design cues: exaggerated arches, a rising waistline and a fast, sloping roofline. Meanwhile, interior space is expanded, thanks to a modest wheelbase stretch, while tech features and premium materials either make a debut or have filtered down from relatives costing at least half as much again.
Special First Edition models certainly ramp up the refinement and capability. Our P250, with its smooth and willing petrol-turbo motor, was dressed to the nines with duo-tone leather seats and a soft-grain leather wheel rim through which a chromed Atlas bezel runs full circle. It's a delight to hold and cements the premium feel of an elegant, uncluttered interior. Some stand-out tech features lift the luxury quotient: namely, the double-decker infotainment display, Head-up screen visuals, and 'ClearSight' cameras that overcome in-car visibility issues to display clearly bright HD video footage of what's behind the vehicle or beneath the front bumper.
The new palette of exterior colours contrasts well with R-Dynamic copper accents and gloss black roofing. Flush door handles now add to the smooth, sculpted aesthetic and slim, matrix LEDs provide a sophisticated headlamp graphic.
It might be compact but this SUV is heavily built up at the front and its panoramic glass roof is taller than most teenagers, so it seems a more substantial vehicle than it is when you step up into the broad cabin and assume a commanding driving position. You might think its massive 21-inch wheels would corrupt ride quality but the Evoque somehow still impresses for rolling refinement, striking a nice balance between compliance and body control. And we're just scratching the surface of its true abilities, of course, because Terrain Response 2 also enables the Evoque to venture deeper into the woods than ever before.
Road and track star: Renault Mégane Rs 280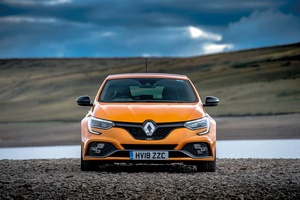 Renault's Mégane RS is a go-to option for those who like their hot hatches genuinely hot and very involving. This high-energy model produces a very healthy 205kW from 1.8 litres (previously 2.0 litres) and, if you go for the EDC dual-clutch gearbox (with standard launch control), peak torque rises to 390Nm. On the other hand, a manual box is a very satisfying point of interaction, if you're inclined to do the shifting yourself.
Extra control and stability come from Renault Sport's PerfoHub suspension tech. Four-wheel steering and hydraulic suspension bump stops now appear on the sophisticated standard chassis. An active flap on the free-breathing central exhaust gives you two distinct tones, one particularly expressive in attack mode with dramatic pops and crackles on the overrun. In fact, there are five drive modes with Race reserved for track use.
You can set the figure-hugging, carbon-grey Alcantara front sports seats quite low and still comfortably access the large portrait touchscreen, which features real-time telemetry for monitoring your track day performance. 
While the Mégane is a compact car at less than 4.4m long, the RS is a wide-tracked, flared-arched beast that appears to be more of a middleweight in the flesh. The exterior features a pronounced front splitter, air grilles in the front arches and a broad rear diffuser. This is a fantastic plaything on the track and is now versatile enough to transfer its talents to New Zealand roads.
4X4 wildcard: Holden Colorado Rox
Holden New Zealand, in conjunction with Auckland-based customiser RVE, has created a super-truck concept to spark the imagination of utility buyers and showcase the potential of its rugged Colorado range.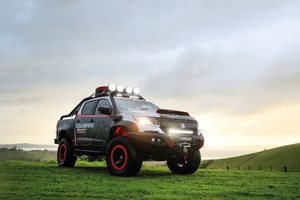 Limited to a 10-week time frame for the build, RVE engaged various suppliers in Asia, Europe and North America but fabricated the majority of aftermarket components from scratch, which meant extensive one-off CAD engineering. A bespoke carbon-fibre high-rise bonnet and a handcrafted steel bumper dominate up front, while an extended roof bar incorporates retractable lights and a roof basket.
But it was accommodating 35-inch mud terrain tyres – a prerequisite dictated by local Holden MD Marc Ebolo – that posed the biggest design challenge. The giant Blackbear rubber is housed within custom monster flares while a 150mm suspension and body lift increase ground clearance to such an extent that 'Rock Sliders' with removable drop steps are employed to help passengers climb up and into handmade leather sports seats.
After making an emphatic statement at the annual Fieldays event, where the home-grown behemoth upstaged all other road-going 4x4s, the Colorado ROX began a lengthy nationwide tour during which it hauled its own fully laden event trailer, thus trumpeting its 3500kg towing capability.
Impressive all-rounder: Mazda3 Hatchback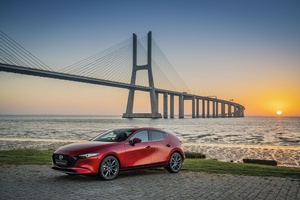 The drive route for the new Mazda3 launch was exemplary: some criss-crossing of the Canterbury Plains highlighted new-found rolling refinement and the calming isolation of a more up-market cabin; a coastal blast to Kaiko-ura demonstrated touring comfort and precise responses; and an inland slalom to Hanmer showed off fluid, unflustered handling
of a genuinely sporting bent.
Efficient Skyactiv-G engines of 2.0 and 2.5-litre capacity are the initial petrol options. Whether you drive a 2.0 GSX or a 2.5 GTX or a Limited (each equipped with a six-speed auto), you can't help but be impressed by the new platform, the new dynamic repertoire and the premium push. The latter is reflected in a simple, beautifully executed interior with improved material quality, greater tactile rewards and more-responsive tech features.
There's a pleasing simplicity to the exterior design, too, that emphasises an interplay of light and shadow. The Kodo design language has subtly shifted from structured surfacing via character lines to clean, body-side reflection for an eye-catching new look. The nose, with its exaggerated black grille and slim, chiselled headlights, is set very low, in contrast to the rounded rear end with its shallow, bespoilered screen atop high-set hips.
More than ever before, the fourth-generation Mazda3 employs a less-is-more philosophy to deliver solid points of difference. And after spending a full day behind the wheel, Hanmer Springs was a relaxing spot in which to reflect on a capable five-door of considerable poise and polish that can also be surprisingly fun.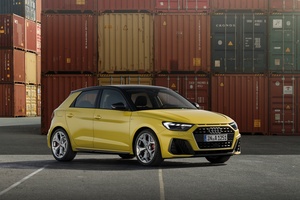 Cool and calming: Audi A1 Sportback
It's small, beautifully formed, highly functional and effervescent to drive. We're describing the street-smart A1 Sportback, Audi's all-new range entry-point whose design combines urban chic with plenty of luxury touches and connected cabin tech. Take the large multimedia screen that is angled towards the driver and (with the tick of an option box) is complemented by Audi's superb virtual cockpit instrumentation display. Best model of the bunch is the 'S Line' badged 35 TFSI with a punchy 1.5-litre turbo and seven-speed auto. Equally appetising are the Quattro-inspired vented bonnet, swollen rear haunches, dynamic bumper treatments and 18-inch alloys.
This article first appeared in Novelnyt magazine.

Subscribe here